Top 10 reasons to visit Croatia
Glittering seas, unspoilt islands, historic cities and natural wonders – Croatia has all this and so much more! This captivating country boasts a vibrant atmosphere that's both Mediterranean and Eastern European, imperial cities have history pouring from every cobblestone, while serene islands offer awe-inspiring scenery that's difficult to beat.
A BEAUTIFUL COASTLINE
Croatia has almost 2,000km of sublime coast, with tantalising crystal-clear waters. Craggy coves abound, making for interesting exploring, and more than 1,000 islands range from uninhabited atolls to nature reserves and fashionable resorts. This makes a cruise aboard a small ship one of the best ways to see Croatia as it gives access to all the hidden beaches that can't be reached any other way. You'll also enjoy a friendly atmosphere, comfortable accommodation and the perfect vantage point from which to watch the sun set over the sparkling Adriatic.
DUBROVNIK
The super-star of the Croatian coast deserves the hype. Dubrovnik is a medieval hub, revamped by Baroque architects following an earthquake in 1667, and still bearing a few bullet-holes from the 1991-92 siege. Today you'll see formidable city walls, a tumble of terracotta rooftops, ancient monasteries and gorgeous squares.
FOOD & DRINK
Cultural intermingling has created a wonderfully varied menu here. Italian, Greek, Hungarian, Turkish and Austrian influences result in a tempting mix of seafood, tasty pastas and hearty meat stews. We recommend retreating to a village trattoria and sampling regional specialities, washed down with a glass of local wine, or two!
IDYLLICISLES
Croatia has an island for everyone, with more than 1,100 scattered around its shores. Lush Mljet is home to a stunning national park, in gorgeous Hvar you can admire sleek yachts moored in its harbour, Solta gives you a glimpse of traditional life, and the fascinating medieval architecture in Korcula have earned it the nickname 'Little Dubrovnik'. Explore these picturesque islands onboard an exclusively chartered cruise ship on our Croatian Island Hopping tour.
KRKA NATIONAL PARK
Krka National Park is a magical place filled with stunning waterfalls and impressive gorges enclosed by lush forests. The Skradinski Buk waterfall is the undisputed major attraction, with its picturesque waterfall surrounded by trails, viewing areas, a swimming spot and stunning natural beauty, making it an absolute must see.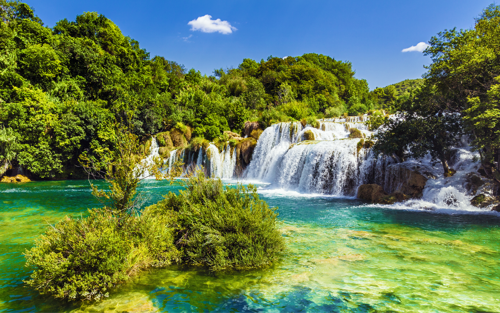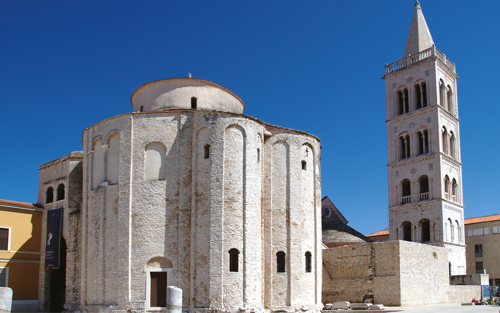 HISTORIC REMAINS
It's not all about Dubrovnik – Croatia's other towns harbour less-visited treasures. In Split, Emperor Diocletian's Palace, built in AD 295, now forms the hub of the old town. A cluster of churches, chapels, traders and street cafés have moved in, turning this piece of history into a living city. In Zadar, you can marvel at the monuments and soak up 3000 years of history – from the old frescoes of the Romanesque Cathedral to the distinctive dome of the Church of St Donatus.
LOVELY LAKES
Depending on minerals and sunlight, the 16 lakes of Plitvice National Park are constantly changing colour, from grey and turquoise to emerald-green. As they're tucked into a clutch of craggy hills, and inter-connected by a series of waterfalls, they look like the illustrations you'd find in a fairy tale.
CHOCOLATE TASTING IN OPATIJA
If you have a sweet tooth, don't worry as Croatians take their chocolate seriously. And they infuse this delicious treat with all manner of home-grown ingredients from rosemary, figs and lavender to sea salt, almonds and even olive oil. A chocolate-tasting session is included on our Croatia's Opatija Riviera tour.
ELAFITI ISLANDS CRUISE
If you're based in Dubrovnik, the Elafiti Islands are well within your reach for a relaxing day out on the water. As you sail amongst this archipelago, take in stunning sights of forested hills, idyllic beaches, rocky outcrops and redroofed houses. Step ashore on Šipan, where, nestled between olive groves and vineyards are the Renaissance villas built in the 15th century as chic summer getaways for well-heeled Croatians. Then, after a seafood lunch on board, explore Lopud, an island which boasts a white-sand beach – rare for Croatia – and the ruins of a Franciscan monastery founded in 1458. - Enjoy this cruise on Dubrovnik & the Highlights of Montenegro.
DISCOVER ROMAN RUINS
Pula, located on the Istrian Coast, is a fascinating town whose centre is dotted with ancient sites. An undoubted highlight has to be the spectacular Roman amphitheatre, which at 2,000 years old, is remarkably well preserved. Primarily used for gladiator fights, which would be played out in front of crowds of up to 20,000, it is also one of the six largest Roman amphitheatres in the world. Visit this fantastic historical site on our Croatia's Opatija Riviera tour.