China Escorted Tours & Guided Holidays
Escorted Tours & Guided Holidays to China
If you've never been to China (or even if you have!), there's enough in this vast, epic country to keep you coming back for more year after year. Seamlessly blending cosmopolitan culture with dramatic elements of the natural world, there's nowhere else quite like it when it comes to travel. Given that the country was shut off from the rest of the world right up until the 1980s, it's still relatively new to receiving tourists; however, foreign visitors are now as much a regular part of day-to-day Chinese life as pagodas and panda bears. With Travelsphere, holidays to China take in some of the country's most iconic sights; from the world-famous terracotta army to the mighty mountains of Tibet, there's so much to look forward to. If you have a clear vision for what you want to accomplish on your China escorted tour, there's no better way to achieve it than by setting off on one of Travelsphere's hand-crafted packages.

Mesmerising and mysterious is China, and Travelsphere wants nothing more than to help you make the most of this magical land. Always wanted to go on a river cruise along the Yangtze? We can make it happen. Experience China on guided tours with Travelsphere and discover a country like any other!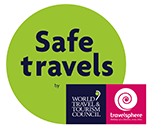 We're delighted to have received the World Travel and Tourism Councils (WTTC) Safe Travels stamp, which recognises businesses and destinations worldwide that have adopted a new set of global protocols to support the return of 'Safe Travel' around the world. Find out more >
China Touring Holidays Frequently Asked Questions
What are the best tours to China?

With so many highlights to see you'll need a good amount of time to explore, and a well organised tour so you don't miss anything. Our Unmissable China & Yangtze Cruise is comprehensive. You will see Shanghai, The tomb of emperor Jingdi, The Summer Palace, The panda breeding centre, Forbidden city, cruise the Yangtze river and much much more!
What are the highlights of China?

China has an endless list of highlights, so much so, that it will keep you wanting to come back time and time again.

In no particular order:

The Great Wall of China -The urban myth that the Great Wall of China is the only manmade structure visible from space might have been debunked, but that doesn't mean this incredible, 5,500-mile long wall is anything other than jaw-dropping.
The Terracotta Army - Discovered in 1974, this staggering, 2,000-year-old mausoleum in Xian contains more than 8,000 terracotta soldiers, nearly 700 horses and 130 chariots, all made to protect the Emperor Qin Shi Huang in his afterlife. 
Exciting Cities - China's two main cities, Beijing and Shanghai, are the two biggest in the world – a staggering 20 million people living in each of them. But that doesn't mean they're overwhelming to navigate – far from it. Beijing boasts both ancient history, in places such as the Imperial Palace, and contemporary culture, while Shanghai is a modern vision of China's future.
Remarkable Food - Chinese food is famous across the globe, but there's nothing quite like eating it in the country itself. And even better is cooking it yourself, with dumpling-making classes becoming a really popular way to understand this vast nation's varied cuisine.
Intriguing Wildlife - Pandas have been considered talismanic creatures in China since the Western Han Dynasty, when they were kept in the Emperor's garden of exotic animals. Today, The Panda Breeding Research Centre in Chengdu is a wonderful place to get up close to this fascinating creature while supporting their preservation.
Cruising the Yangtze River - The longest river in Asia and third longest in the world, stretching over 2,000 miles from North to South offers you a relaxed and widespread view of China's beautiful landscapes and wildlife.
The Forbidden City & the Imperial Palace, Beijing - A national museum housed in the Forbidden City at the core of Beijing. It was established in 1925 after the last Emperor of China was evicted. The museum consists of 980 buildings and covers 72 hectares
The Summer Palace, Beijing - The Summer Palace (Yiheyuan), in northwest Beijing was constructed in 1750 by Emperor Qianlong to celebrate his mother's birthday. It is said to be the best-preserved imperial garden in the world, and the largest of its kind still in existence.
What is the food like in China?

Chinese cuisine is one of the most important components of Chinese culture. It's long history dates back four thousand year ago, with an archaeologist finding the oldest noodle in the upper reaches of the Chinese Yellow River!

Chinese food is exquisite, appealing to the senses with its bright colours, aroma, taste, appearance, feel and meanings. There are of course many regional differences across the country due to climate and soil conditions altering the local ingredients but in all sense and purpose it is high quality version of your local Chinese take-away.

For those yet to try their local Chinese, a Chinese meal consists of two main elements: a staple of rice or noodle and a meat and/or vegetable dish. In Chinese dining every member of the family will have their own rice or noodle dish whereas the meat/vegetable dishes will shared. Very different to British traditions whereby we chose our meat or vegetable main and share our rice's/noodles.

The Chinese do not use a knife and fork to eat their dinner, they dine with chopsticks for rice, noodle, meat and vegetable dishes and use a small ceramic spoon for soups. Although the locals will not be offended if you ask for cutlery, it is fun to try and have a go with chopsticks, especially eating rice….. with is particularly tricky!

For those of you that are dessert lovers, great news! You don't have to wait till you've eaten dinner for dessert. Desserts are not typically eaten with dinner but are considered a snack that can eaten between meals! As an added bonus if you want a dessert after dinner you can still enjoy some locally sourced fresh fruit!

Etiquette - In China, leaving behind an empty plate is a sign to the host that you're still hungry. If you are full and don't want to eat more food, consider leaving a little behind to let the host know you have had enough.
When is the best time to visit China?

The best time to visit China tends to be April, May, September and October. During these months you're more likely to experience a warm, dry heat compared to the humid heat in the summer months and the contrasting intensely cold winter months.

China is however a large country with regional temperature differences and as such you can travel to different regions at different times of the year and enjoy different weather and likewise you cannot guarantee perfect weather even in the preferred months.
Read all about it... China
The Highlights of China

If you're looking for a holiday destination that contrasts bustling cities with ancient sites, then look no further – with an incredibly fascinating history, China should be at the top of your list.

China - Ancient to Modern

Whether you've got a penchant for the past or are always riding the wave of the latest tech trend, here's why china has you covered....

Top 5 Reasons to visit China

China is a country where ancient meets modern, rich in history and home to one of the world's most iconic sights – The Great Wall. Here we share the top 5 reasons to visit this intriguing destination.

Everyone's Cup of Tea

As a nation, we Brits love a cup of tea - in fact for many of us, it's hard to imagine life without it. When we're cold a cuppa warms us up, on a summer's day an iced tea is the perfect cooler, if we're tired or emotional it's just what the doctor ordered, and it's the lynchpin of an elegant Afternoon Tea.