Incredible India with Penny Smith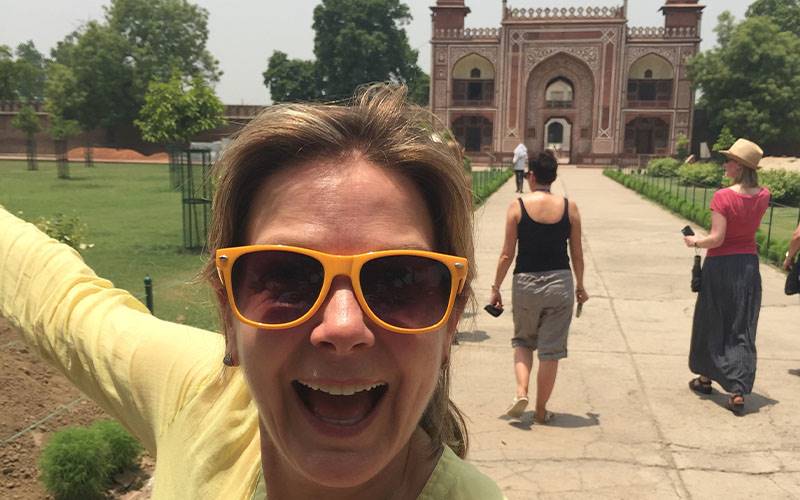 After presenting ITV's breakfast show, GMTV for 17 years, Penny Smith is now enjoying her role as our travel ambassador. On her latest trip with us, Penny joined our Beyond the Golden Triangle tour, where she discovered exotic flavours and bustling cities. Here she tells you about her experience, and why India should be at the top of your travel list.
Beyond the Guidebook
When we first touched down in Delhi, our guide told us: 'India is a country full of colours, of wonders, of nature and architecture'. He was not wrong. From the incredible sight of the Taj Mahal, to tiger spotting in Ranthambore, tasting delicious sambal soup and fast-paced rickshaw rides, India truly was a wonder.
Our tour manager and local guides were awash with information in every place we visited and their expert knowledge made each trip memorable. We were up at 5am to visit the Taj Mahal, but the early start meant cooler temperatures and fewer queues, so we could truly appreciate the once in a lifetime experience.
In between excursions, we had plenty of free time to explore each destination. For me, that meant shopping. From incredible made to measure shirts to marble plates and brightly coloured saris, there were hidden treasures around every corner.
Enjoying the flavours of India
I threw myself head first into India's delicious cuisine with unusual yet glorious breakfasts - sambal soup was my favourite! An aromatic lentil soup with aubergine, tomato tamarind, it definitely set me up for the day. We also enjoyed a mouthwatering cauliflower Gobi curry and an interesting, pudding-like concoction – sadly the name escapes me!
As well as our included meals, there was ample opportunity to try local flavours along the way. In Delhi we made a stop at a splendid carpet shop where we learned from the experts about their intricate craft, as we sipped mellow cardamom and cinnamon tea. I made a point of indulging in a cup of creamy masala chai at every opportunity.
This was my second escorted holiday and once again it was fantastic to experience the trip with my fellow travellers. While the free time meant we could explore different places, a highlight was coming together in the evening to share our stories over dinner.
Our guide told us: 'India is a country full of colours, of wonders, of nature and architecture'. He was not wrong.

Penny Smith