Travel ambassador, broadcaster and presenter Penny Smith, treated herself to a new woolly hat and joined us for an unforgettable winter experience in Canada.
What a holiday. People have asked why I wanted to go for a jaunt round the Canadian Rockies in the freezing cold when it was positively perishing in Britain. Well I think I've proved why. Because it is immense fun. You'd be hard pushed to find a more amazing walk than the one down an ice gorge in Jasper, with turquoise blue frozen waterfalls and the opportunity to slide down snow packed steps.
Winter Escape
The good thing about going in winter is that it's easier to see the wildlife without all that pesky foliage. So we even got to hang out with a moose gnawing its way through twigs on a monochrome hillside - a fantastic spot by one of the group. There were elk, deer and some bald eagle nests as well. No bald eagles themselves…. they're busy having their hair done in winter. And that's another bonus about going in the cold season…. you don't need to bother about your hair because you've always got a hat on. And you get to have an exhilarating facial by standing in a roaring wind off a glacier. It's a win win.
Incredible Experiences
Taking the incredible gondola ride up to the dizzying heights of Sulphur Mountain in Banff, we ended at a spot where you are surrounded by ridiculously picturesque peaks, draped in fluffy white pillows. And as for Lake Louise…. It's not part of a UNESCO site for nothing. It is spectacular. In summertime, the glacial lake is like a sparkling aquamarine. In wintertime, you can skate on it, walk round it, play games on it and drink hot chocolate or mulled wine whilst sitting on ice seats beside it. As for the beautiful hotel, The Fairmont Chateau …It's lush and luxurious with possibly the most comfortable bed I've ever slept in. If it wasn't for the lure of a snow shoe shuffle through powder, I'd still be there.
And Holiday Director, Caroline, made sure that we didn't miss the sights that were a little off the beaten track - in collaboration with fab Matt the coach driver.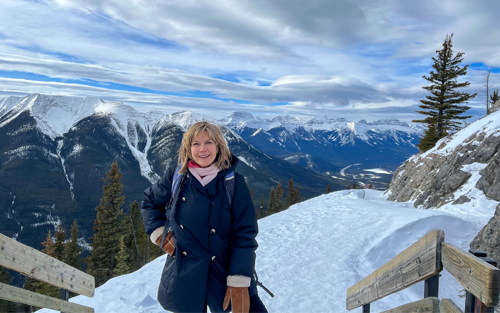 Beyond the Guidebook
Caroline organised a visit to the brand new library in Calgary. And it was superb. Stunning architecture and a fascinating guided trip round the building. It's something I would not have put on my list of things to do but turned out to be one of the highlights. It was also Caroline who suggested we might like to round off the trip with dinner at Calgary Tower - a bit like going up the old Post Office Tower in London, with a rotating restaurant. The food was great - although built for a gargantuan appetite. And it was lovely to see the city laid out in front of you.
Do you fancy some random facts? Canada is the second largest land area after Russia. Its motto is "From sea to sea". Its national symbols are the maple leaf and the beaver. And a little fact from me…. If you type "Beaver eating cabbage" into You Tube, it will make you happy.
As did this holiday.
Feeling inspired to follow in Penny's footsteps? Take a look at our Rockies Winter Wonderland tour.