Start your holiday in style...
Why not treat yourself and start your holiday with an Airport Transfer service taking you from home to the departures terminal. We are delighted to be able to offer a direct booking service for Airport Transfers with our partner Addison Lee - meaning you can start your holiday in style and comfort by taking advantage of our exclusive direct partnership. Why not call and get a quote today?
For almost 50 years Addison Lee's Executive Services have been refined to deliver consistently reliable chauffeur-driven experiences to those who are looking for the next level of comfort and service. 
What to expect:
A professional, well-presented driver to collect you from your home
A meet and greet at arrivals on your return.
An unsurpassed chauffeur-driven experience.
We trust Addison Lee to understand the importance of safety and comfort for every journey, every time.
We have partnered with Addison Lee as they're working hard to make a change to the environments they operate in through their sustainability commitments and partnerships with charities such as UN Women UK's Safe Spaces Now campaign
How to book
To make your booking, just call Addison Lee, quoting the account number 842752 and account name G Touring Passengers, making sure you have full details of of your flights (date, time, airport terminal) and your pick up address.
• 020 7387 8888 (24 hours a day, 7 days a week, 365 days a year)
• Quote account number 842752 and account name G Touring Passengers
It is really important that you state you wish to make a booking on this 'account number'. ie 'Please can I book on account number 842752 and account name G Touring Passengers'
At time of booking, you will need to pay Addison Lee, via credit/debit card for the booking.
Please be aware - flight details may change and that all documentation should be checked to ensure that any flight changes. It is your responsibility to pass on any changes to the booking with Addison Lee.
Amendments and cancellations are permitted (via the phone number above, typically until 4 hours before pick up or until the driver has been allocated to the job request. However, all amendments and cancellations are subject to Addison Lee Terms & Conditions.
Once booked up, you can rest assured that your holiday will begin as soon as your driver arrives at your home ..... relax in the comfort of your vehicle as your own professional, punctual and reliable chauffeur takes all the hassle out of getting to the airport.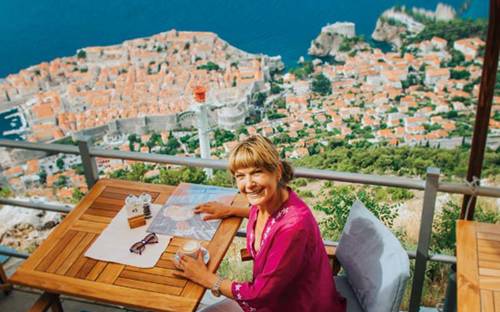 "Is there a better way to start your holiday? On our Croatia trip we were picked up in a smart Mercedes and delivered straight from home to Gatwick airport where I essentially park my brain and go into Travelsphere-holiday mode. I know that everything has been taken care of... now where's my passport?"
Penny Smith, Travel ambassador, broadcaster and presenter
Fly From Your Local Airport
While many of our holidays depart from London, we also offer plenty of other options to make your journey as convenient as possible. If we can, we'll fly you direct to your destination from your local airport. If that's not possible, we may be able to offer you a connecting flight. Look out for the Flight Choices logo on each tour.
* Terms & conditions apply, see essential information for full details.