HOLIDAY OF A LIFETIME, EVERY TIME

60 Years Expertise

Max 35 Group Size

Safe Travels with Travelsphere
Wildlife Touring Holidays
Seeing a rare, wild animal in its natural habitat when travelling can be thrilling – and sometimes a once in a life-time experience. We offer a wide selection of our tours that will give you the opportunity to get up close and personal to these beautiful creatures in their natural environments.
To make it easy for you, we have divided the tours by animal type so you can select whichever wildlife tour takes your fancy.
The Big Five - Lion, leopard, elephant, rhino and buffalo
If you are looking for the Big Five, then you need to head to Africa.
On a Travelsphere tour to Africa you'll be with professional local experts who will fill your head with knowledge while you take in all the amazing wildlife roaming free in their stunning nature reserves, and at night-time you'll be relaxing in great quality lodges, hotels and luxury tented glamps.
We offer two Big Five tours that will fill your camera with unforgettable moments and leave your jaw ajar.
Spot Africa's most thrilling animals, including the Big Five, on safari in Samburu National Reserve and the Masai Mara in our Kenya: Safari and Savannah Sunsets Tour. Not only will you see the Big five, but there are also 350 bird species to spot, cheetahs, giraffes, hippos and rare creatures such as the long-necked gerenuk and the Grevv's zebra. For reptile lovers there is a high population of crocodiles too!

Alternatively, discover the very best of South Africa's wildlife on this all-encompassing tour. We'll take you to Kruger National Park in search of the Big Five, but you'll also be in for seeing lush farmlands and vineyards, our Chimpanzee sanctuary, then famous penguin colony, and an Ostrich farm.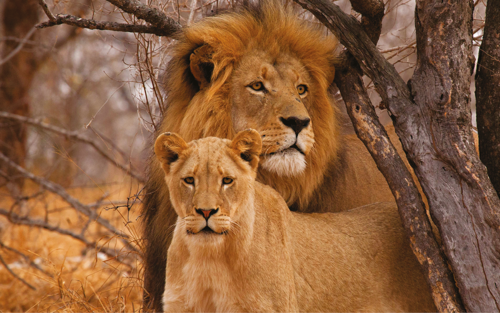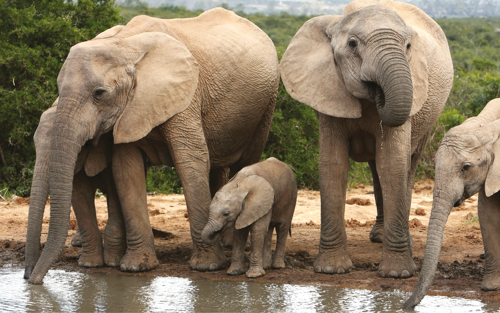 Memorable Mammals
If you want to see a more rounded view of wildlife, then we have several tours to whet your appetite.
Why not take our Nambia Adventure tour – Where you will have the chance to see four of Africa's 'Big Five' in their natural habitat, plus many of the 114 other types of native mammals including the endangered black rhino and everyone's favourite, the elephant. Head to the water and you might spot some dolphins and seals, and, in the desert, you'll catch a glimpse of geckos, scorpion's, spiders and many different lizards.
And talking of elephants - our Highlights of Sri Lanka tour can offer sightings of free roaming elephants, as well as wild boar, and sambar deer. Look up in any of the 5,000 varieties of plants and trees and you'll spot the indigenous slender loris, purple monkeys and sloth bears. And as you reach Yala, look out for the watering holes, as these attract many animals including a sizeable population of elephants, some leopards, and crocodiles.
To top all that off you'll also visit our turtle hatchery and the Elephant Transit Home in Udawalawe, sponsored by the Born Free Trust, where injured or orphaned elephants from around the island are brought and given treatment and care, before being relocated at Udawalawe National Park.
Want to go in search of elusive and rare animals – then a trip to Ranthambore National Park on our Beyond the Golden Triangle and Grand Tour of India tours are a must! Said to be the best game reserve in India, the thick forest and pretty waterfalls provide the perfect habitat for more than 300 species of birds. Keep your eyes peeled for other residents of the park, including crocodile, hyena, jackal and more. Cross your fingers for a sighting of the famous tiger, and the even rarer leopard too.
For a chance to visit the rare cloud forest and the heart of animal preservation, you'll need to take our Best Of Costa Rica tour, where you'll see an extensive variety of wildlife. Explore the rainforest on a walking trail which crosses 15 bridges, six of which are hanging in the rainforest canopy, offering a spectacular view of the scenery below and a chance to get close to the wildlife hidden in the treetops.
Keep your eyes peeled as there are more than 250 species of birds living in the reserve along with the howler monkey whose noise will make sure you don't miss them. Look down to the rainforest floor and you'll see a vast array of reptiles, mammals, and insects. Only 1% of all remaining forests on the planet are classified as cloud forests, so our visit to one is a real privilege.
Flower lovers will also adore this trip as there are over 30 types of orchids! Twitchers get your camera ready for this National Park is a haven for birds such as scarlet macaws, motmots and several groups of trogons. Be sure to keep your eyes peeled for the rare squirrel monkeys that call the park home too! To top it off there is a jungle cruise to enjoy and a chance to see sea turtles.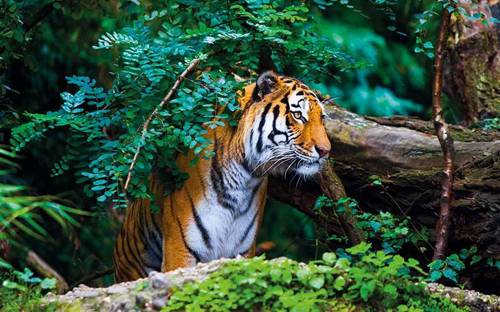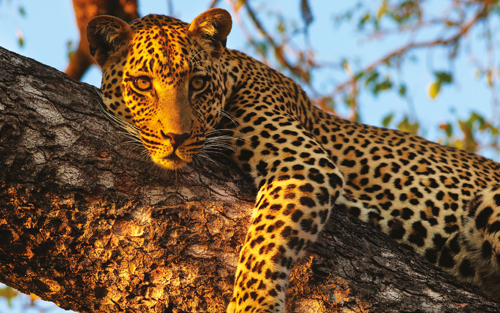 Best for Birds
Most of our tours have a wide selection of birds available for twitchers but the tours that house the most feathered friends are:
Our Galapagos Island hopping tour offers the best chance to see the Galapagos Penguin along with pelicans, and the famous blue-footed boobies. On route you'll also be searching for hummingbirds, pink flamingos, great frigate and pintail ducks. 
Head to Kenya on our Kenya: Safari and Savannah Sunsets tour and see more than 350 types of birds such as the red billed Quelea, the Turaco, the Northern Carmine bee-eater, the grey-headed kingfisher, the saddle billed stork and their national bird the lilac-breasted roller.
India houses over 300 of our feather friends and we have two lovely tours to pick from. Travel on our Beyond the golden triangle tour or The grand tour of India and you will be sure to spot grey junglefowl, Indian peafowl, the painted stork, the great hornbill, kingfishers, egrets and fish eagles.
Head to Phillip Island on our Highlights of Australia tour and you will get the privilege of watching their remarkable penguin parade. Then down at the Yellow Water Lagoon, you'll be on the lookout for acana, egrets, jabiru, sea eagles, whistling ducks, magpie geese and many other native species.
Want to see the gigantic Andean Condor? Then a visit to Peru on our Latin Wonders of the World tour is for you.
Chilled Out Chaps
Take a horse drawn sleigh ride on our Rockies Winter Wonderland tour where you'll spot wolves, elk, deer and hope to catch a glimpse of our favourite, grizzly bears.
Keeping on a bear theme you might fancy taking a luxurious relaxed cruise as part of our Rockies, Rail and an Alaskan Cruise. Your ship traces the outline of North America's most scenic coastal landscape. As well as enjoying the ship's facilities, make sure you spend plenty of time on deck keeping a watchful eye for wildlife. If you're lucky you could see whales and seals in the water, eagles soaring overhead and our grizzly bears on the shoreline.
Spectacular Sea Life
The Galapagos Islands are home to an impressive snorkelling scene where you will see colourful tropical fish, sea horses, urchins, spotted & eagle rays, damselfish, pufferfish, chocolate chip starfish, sea turtles, sea lion pups and perhaps even the Galapagos shark!
If it's the Great Barrier reef you are after, then our Highlights of Australia tour will take you there. Take a boat ride and see the marine life that comes incredibly close to the vessel. The reef houses more than 1600 varieties of fish including clownfish, red bass, red-throat emperor, Angelfish, Butterfly Fish, Damselfish, Parrotfish. Other sea life includes turtles, manta rays, Māori wrasse, giant clams, sharks, dolphins, and whales.
Speaking of whales, our South Africa whale-watching special departure is the perfect opportunity to spot these enormous creatures. Visit Hermanus, known as one of the best places for land-based whale watching in the world, and look out for these mesmerising creatures who stay in the bay close to the shore. Then head out onto the water to get a closer look.
Magnificent Monkeys
If primates are your idea of an awe-inspiring holiday, then our Ultimate South Africa tour will give you the opportunity to visit our Chimpanzee sanctuary. The goal of the chimpanzee sanctuary is to rescue chimpanzees that have survived the bush meat trade, been orphaned, traded in the illegal pet market, or rescued from being traumatised for entertainment in circuses, beach resorts and night clubs.
The chimpanzees at Chimp Eden are the lucky ones, living out their lives in semi-wild enclosures and being provided with the necessary attention to recover from the trauma they have experienced.
Costa Rica – The land of animal conservation is home to four species on monkey: the white-faced capuchin, the squirrel monkey, the spider monkey, and the mantled howler monkey, famed for its loud thunderous howl.
At Travelsphere, wildlife preservation and rehabilitation is at the forefront of our minds and forms the heart of our tours. The projects we support focus on four main areas where we feel we can have the most impact – breeding, preservation of habitats, rehabilitation, and education. By working alongside the local communities, we have improved the lives of many native animals. It's not just tourism. Its award-winning responsible tourism provided by people who genuinely care.