Pervin's Recipe for Prawn Buzara
This traditional Croatian dish was sampled by chef, Pervin Todiwala, in a couple of different restaurants in Opatija - prepared with langoustines in one place and mussels in another. She enjoyed it so much, she shared her own interpretation with us so you can enjoy it too!
SERVES 4
INGREDIENTS
200ml of olive oil
3 cloves of garlic, finely chopped
3 shallots, finely chopped
1 tbsp tomato puree
2 large ripe tomatoes, peeled and chopped
1 tsp smoked paprika
1 tsp salt
250ml white wine
100ml water
16 large raw prawns, whole
Freshly ground black pepper
2 tbsp fresh breadcrumbs
2 tbsp chopped coriander
Crusty bread, to serve
CREATING YOUR MASTERPIECE
Heat half the oil in a frying pan and set over medium-high heat.
Add the garlic and shallots. When they are sizzling, stir in the tomato puree, chopped tomatoes, smoked paprika and salt.
Cook for 5 minutes, stirring constantly to prevent the shallots and garlic from burning, then add the wine and cook for a further few minutes.
Add 100ml of water and bring to the boil. Stir, then reduce the heat and let the sauce simmer until reduced by half.
Heat the remaining olive oil in another frying pan and set over a high heat. When the pan is really hot, fry the prawns for 2 minutes, then remove from the heat.
With the sauce still bubbling, add the fried prawns and coat them well. Season well with black pepper and add a tablespoon of the breadcrumbs. Use more crumbs if the sauce is too thin.
Cook for a further 2 minutes then turn off the heat.
Drizzle over a little more olive oil. Sprinkle with chopped coriander and serve immediately with crusty bread.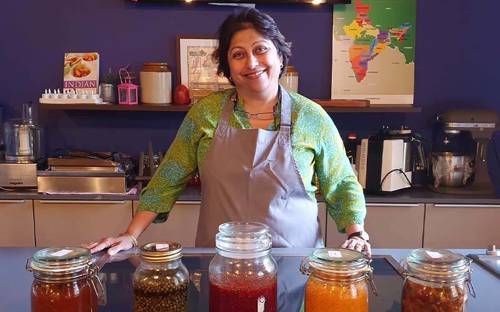 About Pervin
Pervin Todiwala is a professional chef and co-founder and patron of Cafe Spice Namaste, the ground-breaking Indian restaurant she set up with her husband Cyrus Todiwala OBE DL. Pervin travelled on the Travelsphere Croatia's Opatija Riviera holiday