Pervin's Potato Doughnuts (FRITULE)
Fritule is a Croatian pastry generally eaten at Christmas time. This is a variation with potato that chef, Pervin Todiwala has shared so you can make your own. Trust us – they are truly delicious!
MAKES AROUND 40
INGREDIENTS
500g potatoes (preferably Desiree)
5g sultanas
3 tbsp dark rum
Rind of 1 lime
Rind of 1 orange
5g nutmeg, grated
1 tsp vanilla extract
275g caster sugar (keep 75g separate and mix with ¼ tsp of cinnamon)
1 tbsp walnuts, coarsely chopped
2 eggs, lightly beaten
225g plain flour, sieved with
½ tsp salt
7g dried yeast
80ml water
Sunflower oil
CREATING YOUR MASTERPIECE
Boil the potatoes submerged until fully cooked. Drain and set side. When cool, peel and then discard skins.
Put the sultanas and rum in a saucepan and bring to the boil.
Remove from the heat and allow the sultanas to soak in the rum for around 30 minutes.
Mash the potatoes with the lime and orange rind, nutmeg, vanilla extract and 3 tablespoon of caster sugar until smooth.
Add the walnuts, eggs, flour, yeast, soaked sultana mixture and water, and stir until the mixture makes a thick batter.
Add more water if required and then set aside, covered with a damp cloth, for approximately 1 hour.
Fill a saucepan or deep fat fryer with oil. Heat to around 180°C and fry until golden brown. It will colour very quickly so make sure that the oil is not too hot.
Drop a few heaped teaspoons of batter into the oil and make the doughnuts in batches until golden brown.
Remove and drain on paper towel, and then roll in the cinnamon-flavoured sugar.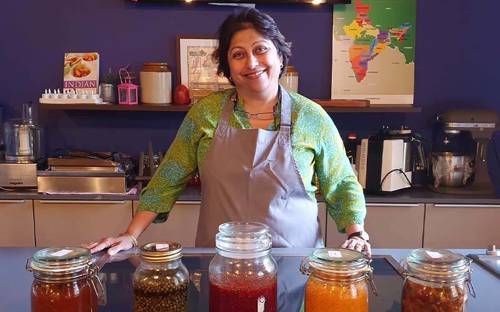 About Pervin
Pervin Todiwala is a professional chef and co-founder and patron of Cafe Spice Namaste, the ground-breaking Indian restaurant she set up with her husband Cyrus Todiwala OBE DL. Pervin travelled on the Travelsphere Croatia's Opatija Riviera holiday