Pervin's Fish with Potatoes in Herb Sauce
Chef, Pervin Todiwala, travelled with us to northern Croatia where she was inspired by the fresh fish and delicious local ingredients. This dish was inspired by a restaurant in Rovinj - a beautiful harbour town in Istria. It really is such a simple but delicious recipe.
SERVES 4
INGREDIENTS
3-4 potatoes, peeled and cubed
4 to 5 tbsp olive oil
1 small onion, chopped
1 clove garlic, sliced
1 courgette, cubed
1 tsp paprika
2 tbsp tomato passata
100ml chicken stock (or water)
A small, whole sea bream, scaled, gutted and cleaned
Salt to taste
8-10 pitted black olives
2 heaped tbsp coriander, chopped
1 tbsp parsley, chopped
CREATING YOUR MASTERPIECE
Parboil the potatoes then sauté them in 2-3 tbsp of olive oil.
In another pan, gently sauté the onion in the remaining oil then add the garlic, courgette, paprika, tomato passata and stock.
Add the sautéed potatoes to the sauce and retain the oil which you'll use for the fish.
Season the fish and sear it in the potato pan.
Transfer the whole sauce mixture with the potatoes into a baking tray and then top with the fish.
Cover tightly with foil and cook in the oven at 200°C for 10 minutes.
Alternatively, you can grill the fish separately and add to the baked sauce at the last minute.
Garnish with olives, coriander and parsley.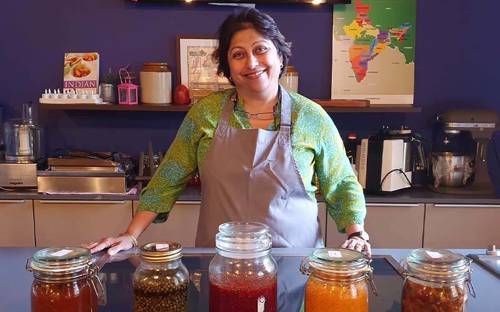 About Pervin
Pervin Todiwala is a professional chef and co-founder and patron of Cafe Spice Namaste, the ground-breaking Indian restaurant she set up with her husband Cyrus Todiwala OBE DL. Pervin travelled on the Travelsphere Croatia's Opatija Riviera holiday