Travel writer Lynn Houghton joined Travelsphere's Grand Tour of Canada, here she talks about her experience travelling through this wonderful country, including a journey on the famed Rocky Mountaineer…
"Towering carved totems stare down at us with bright vacant eyes as we gaze up from below. Totems, or story poles, are carved by First Nation peoples and tell tales of an ancient land full of wildlife, water, ice and snow. Eagles are prominent on totems, as are toads, birds of prey and indigenous people. I spot a bald eagle circling overhead as we take in the mysticism and magic of this moment. With stunning views of the sparkling city of Vancouver just across the water from this very spot, I feel transported.
A place of superlatives
Canada is the second-largest country in the world, and on a 17-day trip, I only see a tiny fraction of its vast expanse. It is a place of superlatives – the biggest urban park in the world, some of the lowest temperatures on record, bordering three of the largest bodies of water in the world and uniquely, in Collingswood Ontario, there is the largest Elvis Impersonation Contest on the planet!
Vancouver is considered one of the healthiest places to live on the earth (another superlative). Sushi is hugely popular here with fresh fish accessible to most residents. Incredible markets such as the one on Granville Island feature top meat and charcuterie producers, bakeries, donut shops and much more. Tree-filled parks and beachfront, as well as petite city spaces, are filled with residents going for a jog, walking their dog or doing a morning work-out.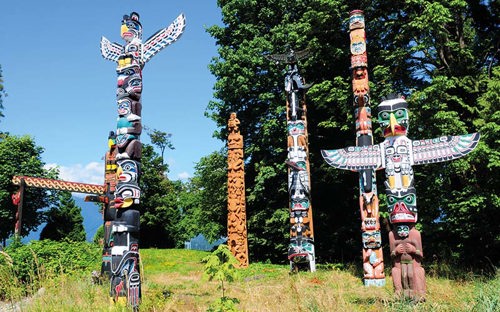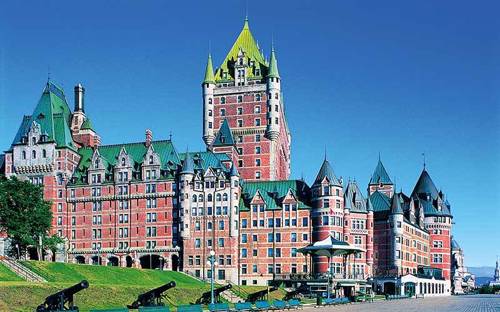 Historic Rocky Mountaineer
But this is the end of our trip and it is the journey to get to Vancouver that is truly remarkable… travelling on the historic Rocky Mountaineer train from Banff.
This iconic train is unique because, over the heads of passengers, are dome shaped glass roofs to optimise viewing. SilverLeaf Service single-level dome coaches give you panoramic views through oversized windows, while GoldLeaf Service features fully doomed bi-level coaches. These really come into their own as you travel through deep gorges and pass by towering peaks. The bi-level coaches also have a dining area below and passenger level above.
Landscapes, wild animals, glaciers, mountains, lakes and tiny towns all whizz by on this journey to the ocean. The Rocky Mountaineer Mile Post magazine, along with the hosts on board, broadcast information about the scenery we travel through and it is riveting stuff.
We pass Hell's Gate Canyon, which was first seen by 19th Century explorer Simon Fraser. We learn about the last spike of the railway, which is an iron nail as opposed to the gold ones which were historically used, as we see the marker for the Continental Divide not far from Lake Louise.
The beginning of the tour is also remarkable as I have never been to Quebec. Visiting French-speaking Canada is something I have been looking forward to with anticipation. Sadly, Montreal is in the grip of a cold snap when we arrive and so isn't showing us her best side, except the Basilica of Notre Dame which is staggeringly beautiful.
But nothing can dampen the trip the following day to Quebec City. The walled city is truly a surprise, particularly as it is the only fortress to survive intact in North America.
Early on, during a short tour, we hear about the battle of the Plains of Abraham – interesting as it sealed the fate of French Canada – and we also learn about the 150th anniversary of the confederacy.
But what I enjoy the most about Quebec and Quebec City is hearing French being spoken and enjoying the French sense of style that has infiltrated this part of the world. I even try a dish called Poutine. But discover that as it is cheesy chips with gravy, it is more a British dish with a French moniker.
A truly remarkable journey."