Get out and about in America's National Parks
With America's National Park service celebrating it's centenary in August 2016, this year is an exciting time to plan your visit to one or more of these parks. With nearly 60 scattered across the country, there is plenty of choice!
Yellowstone's beauty
The first-ever designated national park was Yellowstone, famous for its plentiful hot springs and spouting geysers. The most well-known is Old Faithful, a geyser which explodes into action on average every 76 minutes, expelling between 3,700 and 8,400 gallons of boiling water up to a height of 184 feet. Many more parks then followed in Yellowstone's footsteps and each boasts its own stunning beauty and unique features.
The Grand Canyon
What traveller does not want to cross the Grand Canyon off their wish list? This iconic natural wonder is the deepest canyon in the world, and nothing can quite compare to absorbing the views as you stand on the South Rim. Then there's the geological splendours on display at Yosemite – near vertical mile-high cliffs, some of the world's tallest waterfalls and giant sequoia trees to name but a few.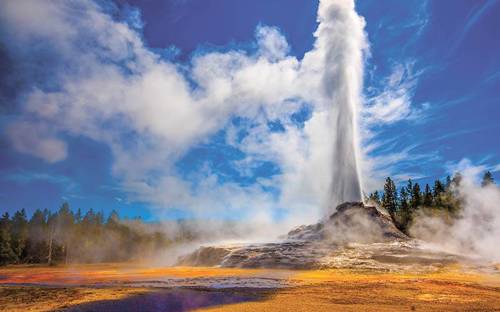 Yellowstone, Castle Geyser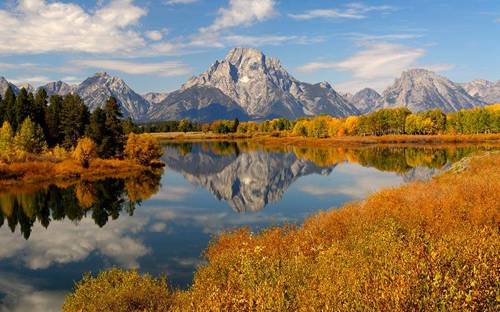 Grand Teton National Park
Grand Teton's Glaciers
The aptly-named Arches National Park is home to approximately 2,000 natural sandstone arches carved by millions of years of erosion, while Grand Teton is famed for landscapes dominated by snow-capped peaks and mighty glaciers.
Adventure of a Lifetime
With Travelsphere, these parks and many more are yours to discover on a thrilling adventure of a lifetime. Tour Manager Tim Boaler has hosted many tours to these outstanding sites. He says: "America's National Parks are a true wonder to behold. It's difficult to focus on one single thing, as there is so much to admire. There is nowhere else on Earth like Yellowstone – to see a herd of buffalo grazing in front of one of the major geysers is a sight you could never see anywhere else. And when you walk in Arches National Park, you really feel as though you are starring in an old Western movie!"
Natural Wonders
The mission of the National Park Service has always been to make these treasures accessible to all and preserve them for future generations. So, as it begins its second century of nurturing these incredible natural wonders, why not celebrate this remarkable milestone and wish the parks a happy birthday in person.
Every Travelsphere holiday offers exceptional value for money. Included in the price are return scheduled flights/rail travel and internal flights, where applicable, overseas transfers and transportation, carefully chosen hotels, many meals and excursions and the services of a Travelsphere Tour Manager or Local Guide.