A-Z of hotspots to visit in the USA
From Arizona to Zion, there are so many reasons to visit the USA.
What you can experience with Travelsphere
From Arizona to Zion National Park, a Travelsphere escorted tour takes you on a fantastic journey around the incredible USA
A is for… Arizona
Yeehaw, this southwestern state has a rich tradition of cowboy culture, and these cattle herders still work on ranches today. You can also see cowboys riding their trusty steeds around another Arizona icon, the Grand Canyon, a must-see on escorted tours to America, but more about that later! Arizona is known for its sunshine too, and with more than 325 sunny days a year on average, you can definitely plan for plenty of fun in the sun as you ditch the coat and leave your umbrella at home. A is also for Antebellum Mansions, and you'll need to head south to take in the stunning beauty of these plantation houses, built prior to the American Civil War. Natchez is a great place to view many lovingly-restored mansions, including Stanton Hall, considered the grandest of all.
B is for…Battle of Little Bighorn
The Battle of Little Bighorn was fought between federal troops under the command of Lieutenant Colonel George Armstrong Custer and Lakota Sioux and Cheyenne warriors led by Sitting Bull. Also known as Custer's Last Stand, this battle over the gold discovered in land belonging to Native Americans, is one of the most famous in western history. Can you imagine standing in the actual battlefield site? Well, you can do just that on one of our escorted tours to America.
C is for…California
Are you California dreamin'? If you choose to tour America, you'll definitely want this western state on your itinerary. Soak up the glamour of its cities – Los Angeles and Beverly Hills are an impressive trio with world-class shopping, movie star mansions and sun-kissed beaches all within reach. 'City by the Bay' San Francisco has the famous Golden Gate Bridge, while San Diego, which sits on the border with Mexico, is home to a renowned zoo specialising in conservation.
C is also for the late great singer-songwriter JOHNNY CASH. There aren't many USA tour holidays that include a private performance by one of this legendary musician's relatives, but our The Deep South holiday does just that.
D is for… Driving
If you're looking for a road trip, the USA is right up your street! Of course, the most famous drive has to be legendary Route 66. Also known as the Mother Road and Main Street, USA, this 2,451-mile stretch passes through the heart of the USA as it takes in eight states and three time zones!
E is for…Elvis Presley
Regarded as one of the most significant cultural icons of the 20th century, Elvis Presley lived in Graceland from 1957 until his untimely death in 1977. This mansion in Memphis is now a museum, and you can see various rooms, including the famous Jungle Room, admire the 22 vehicles that he drove or rode on during his life, and even step aboard his private planes. Guided tours end in the poignant Meditation Garden, where Elvis is buried alongside his parents. In Memphis you can also visit Sun Studios, where the King of Rock 'n' Roll made his first recordings in 1954.
F is for…food
Nearly all of the popular dishes consumed in the USA originated elsewhere and were taken there by settlers, colonists and immigrants. On USA tours your menu is sure to feature hamburgers, hot dogs, pizzas and tacos, as well as a slice of all-American apple pie. Head South for fried chicken and cornbread, and try out Boston's seafood, it's said to be amongst the best in the world.
Fancy a tipple? Bourbon is considered the USA's national drink, California's wines are world renowned and there are more than 3,000 breweries in the USA, from industry giants producing world-famous ales to microbreweries inventing full-flavoured, innovative craft beers. As a general rule, if you want it, you'll probably find it in America, and in huge portions too.
G is for…Grand Canyon
Sights don't come much grander than the Grand Canyon. No tour of America would be complete without a visit – and about six million people oblige each year! This iconic natural wonder really does have to be seen to be believed, whether you stand on the South Rim absorbing the breathtaking views or take a thrilling flight over this 277-mile-long gorge, which at its widest is 18 miles across. This is more than just a big hole in the ground, this is an overwhelming sight that proves the adage that bigger is definitely better, and the sight of it will stop you in your tracks.
And let's not forget San Francisco's GOLDEN GATE BRIDGE. Just as famous as the city in which it resides, it was opened in 1937 and was once described as 'the bridge which could not and should not be built'. Since that day, about two billion vehicles have journeyed across it, and a really thrilling way to view it is from a helicopter, as you soar around, over and under it.
H is for…History
The USA was founded on 4th July 1776, when the Declaration of Independence was written and signed in Philadelphia. Serving then as the country's capital, the city is home to the most historic square mile in America, featuring the Liberty Bell, Independence Hall, the President's House, where George Washington and John Adams spent most of their presidencies, and Carpenter's Hall, where the seeds of the American Revolution were sewn.
Boston too is a city awash with history. Once a hotbed of revolutionary activity, this was the site of the infamous Boston Tea Party, an act of protest over taxation. It's also where you can follow the Freedom Trail. This path passes by 16 historically significant locations including Paul Revere House, the Granary Burying Ground and the Benjamin Franklin statue, a tribute to one of America's Founding Fathers.
And hooray for HOLLYWOOD too! Every visitor to Los Angeles wants to step on the Walk of Fame and gaze up towards the nine white letters of the Hollywood sign – a metaphor for ambition, success and glamour!
I is for…icons
USA tours are quite simply packed with iconic landmarks no matter where you go. Sail under or fly over San Francisco's Golden Gate Bridge, admire the sights on the Las Vegas Strip, or take a helicopter flight over the Grand Canyon. View the extensive musical exhibits at Nashville's Country Music Hall of Fame and immerse yourself in political history as you stand before the White House. The whole city of New York is an icon, aided by the likes of the Statue of Liberty, the Empire State Building, Central Park and so on.
J is for…Jazz
Be sure to put New Orleans on your list when you tour America, especially if you're a music-lover. One of the oldest cities in the country, it is also the birthplace of jazz. Take in the scent of the flowers tumbling from the wrought iron balconies in the French Quarter as music wafts from every door and window. Head to Bourbon Street, which is 13 blocks long and lined with bars and live music venues playing everything from Dixieland to acid jazz, day and night.
K is for…Martin Luther King JR
Born in Atlanta, Georgia in 1929 in a time of racial segregation, Dr Martin Luther King Jr was destined to become a legend. As leader of the Civil Rights Movement, he will forever be remembered for his 'I have a dream' speech, a passionate call for an end to racism.
L is for…Las Vegas
There is no chance you'll get bored in Las Vegas, not for one minute. The whole place is a living, neon-lit attraction and just walking along the Strip is an electrifying excursion that won't cost you a dime! The hotels are way past incredible, with shows, rides, exhibitions and huge shopping malls inside, but you only have to stroll by for a thrill-a-minute experience. Luxor whisks you to Cairo as you gaze at not quite the Great Pyramid at Giza and the Sphinx, but they're great copies. The Belaggio's colourful dancing fountains are awesome to see in action, and at the Venetian you can get your photo taken with gondoliers navigating Vegas's very own Grand Canal in the background. Save The Mirage Hotel for a night-time visit, it's got a waterfall that actually turns into an erupting volcano. Oh, and there are loads of casinos – for some the star attraction but we think they've got way too much competition.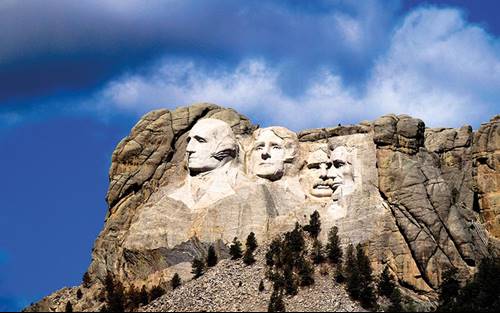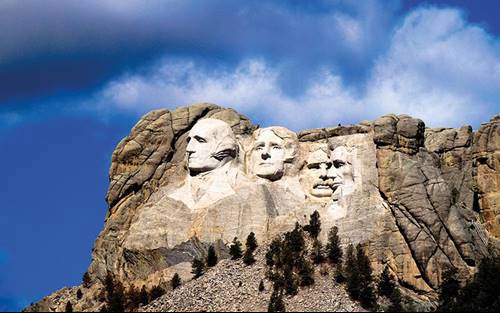 Mount Rushmore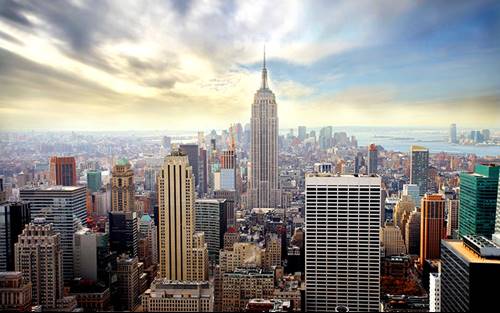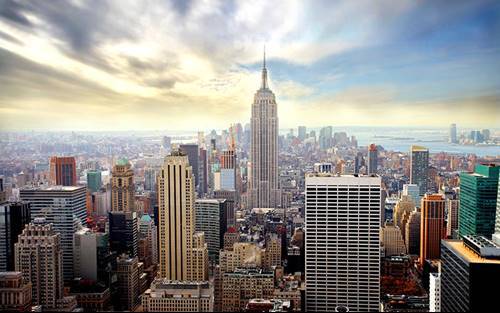 New York City
M is for…Mount Rushmore
A symbol of freedom and hope, Mount Rushmore sits among the majestic beauty of the Black Hills of South Dakota. Work began on this iconic sculpture of presidents George Washington, Thomas Jefferson, Theodore Roosevelt and Abraham Lincoln in 1927 on a mountain chosen due to its height, the soft grainy consistency of the granite and the fact that it catches the sun for the greatest part of the day. The subjects were chosen on the basis of what they symbolised and to view it is incredible.
N is for…New York, New York
So good they named it twice! New York, the city that never sleeps is at the top of the list of most travellers looking for USA tours. As one of the most iconic cities in the world, it's familiar even to first-time visitors thanks to its stellar roles on both the small and big screens and its reputation as a global trendsetter. The Empire State Building, Times Square, Fifth Avenue, Central Park, the Statue of Liberty – the list of attractions is endless, and days of exploration just fly by in this 24-hour location.
Another N is Niagara Falls, and although they are not the highest in the world – 500 others are taller – they are without doubt the most famous. The combination of height and the volume of water makes this one of the most spectacular and most visited waterfall sites in the world. It's also been named as 'one of the hundred places to see before you die' in polls.
O is for…Ogunquit
It's maybe not the most famous of towns, but Ogunquit is a charming beach town in southern Maine, where you'll find plenty of quaint shops and lively restaurants here. Be sure to take a walk along the Marginal Way footpath for fabulous views of the New England coast.
O is also for Opry. The Grand Ole Opry is the home of country music, located in Nashville, it has showcased country music's past, present, and future for over 96 years!
P is for…Paddle Steamer
Before the development of the railroads, paddle steamers played a massive role in transporting both people and freight. Today you can take a sedate cruise back in time on board one of these elegant vessels on the mighty Mississippi River. As you take in the views, you can also tuck into lunch as a live jazz band entertains New Orleans style.
Q is for…Quintessential
Quintessential New England destinations include the affluent summer getaway island of Martha's Vineyard in Massachusetts and beautiful Bar Harbor. Located in Maine, this small town is surrounded by the stunning scenery of Acadia National Park. Both feature quaintness and charm by the bucket-load, so prepare to swoon!
R is for…Redwoods
Get ready to crane your neck in Redwood National Park – it might be a bit uncomfortable, but trust us, it's worth it! Here you'll see soaring redwoods – the largest known trees living on the planet, which can grow as tall as a 26-storey building and have a trunk measuring 35 feet across.
S is for…Swamplands
The swamplands of Louisiana played a huge part in the state's past as the home to native tribes. Captivating writers, historians and travellers alike, a cruise is your chance to discover these vast wetlands. As you drift along mysterious, moss-draped bayous and beneath the shade of ancient cypress trees, look out for alligators lurking in the murky waters or bald eagles swooping overhead.
T is for…Tupelo
'King of Rock 'n' Roll' Elvis Presley was born in Tupelo, and fans will want to visit this city where he spent the first 13 years of his life. It's also where he learned to play the guitar and where he was inspired by the music he heard in his church. A tour here shows you some of the significant places that featured in the life of this young boy who was destined to become one of the world's biggest stars.
U is for…Universal Studios
Escorted tours to America are all about fun and excitement, and you'll get both of those in spades at Universal Studios in California – one of the world's top theme parks. If you choose to visit, you'll see the original studio lots and learn about all the stages of film production from wardrobe and props to editing and music recording. There are special shows throughout the day with stuntmen performing some of the death-defying action sequences you might have seen on screen, plus the chance to try out some of the movie-themed rides and experiences. Shows and rides may change depending on the latest blockbuster releases, but you're certainly promised an action-packed visit with plenty of drama and the odd movie 'legend' or two popping up from time to time!
V is for…VISA
Relax, UK citizens are eligible to enter the USA under the Visa Waiver Program without obtaining a visa. However, you will need a valid ESTA (Electronic System for Travel Authorisation) prior to travel. Visit www.gov.uk/foreign-travel-advice for up-to-date details.
W is for…Washington DC
In Washington DC, the USA's capital since 1790, a great place to start your historic discoveries is the National Mall, which extends from the Washington Monument to the US Capitol Building. This is where you'll find the city's most famous memorials, monuments and museums.
X is for…Extraordinary experiences
Ok, so it doesn't start with an X, but the states are jam packed with incredible experiences, breath-taking landscapes and diverse cities and there is no better way to see them than on an USA escorted tour with Travelsphere - where your Holiday Director will point out the iconic sights, and share a few hidden delights too!
Y is for…Yellowtone National Park
The first-ever designated national park was Yellowstone, famous for its plentiful hot springs and spouting geysers. The most well-known is Old Faithful, which explodes into action on average every 76 minutes, expelling between 3,700 and 8,400 gallons of boiling water up to a height of 184 feet. Many more parks then followed in Yellowstone's footsteps and each boasts its own stunning beauty and unique features.
Z is for…Zion National Park
In the top three of America's most-visited national parks, Zion is just incredible, with something for everyone from verdant valleys to vertiginous rock formations. A prominent feature is the 15-mile-long, 800-metre-deep Zion Canyon. And keep your eye out for all sorts of wildlife, from bighorn sheep and mule deer to ringtail cats and rock squirrels.