One of the world's smallest countries can give you the biggest of welcomes and incredible memories to treasure.
You never forget a holiday to Malta. Memories linger, warm and vivid like a sunset over the Mediterranean. Brightly-painted wooden boats carving across Valletta's Grand Harbour; lazy days on golden sands beach; a trip to the magnificent Blue Grotto cavern; a café in a sleepy side street, bathed in afternoon shadow; a plate of slow braised rabbit in a red wine sauce served with a generous hill of rice.
For such a tiny island, Malta has a reputation for leaving a big impression on its visitors. Perhaps this is because they don't know what to expect. Valletta, with its military fortifications, canyon-esque streets and Baroque architecture always comes as a surprise. From the imposing Fort St Elmo to the elegant marble interior of St John's Co-Cathedral, the capital is a labyrinth of hidden treasures – museums and churches, palaces and secret gardens.
Rich with history
You can thank the 16th century Knights Hospitaller for Valletta's enduring grandeur and for fortifying the island against the threat of invasion. The military influence is everywhere you look, from the massive bastions that guard the Grand Harbour and its 'Three Cities' (Vittoriosa, Cospicua and Senglea), to the crumbling sandstone watch towers that pepper the island's rugged coastline.
Of course, there's more to a Malta holiday than Valletta, which hasn't always been the islands capital. To the west, medieval Mdina was once the seat of power and this silent city (no cars are allowed inside it) slumbers behind it's ancient walls, waiting to be explored by travellers who crave more than another day on the beach. Older still are the Mnajdra and Tarxien temples, stunning megalithic ruins that date back to a period between 3600 and 3200 BC.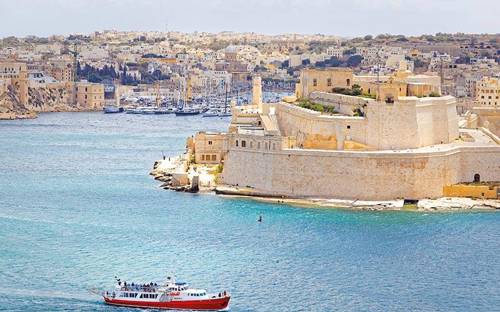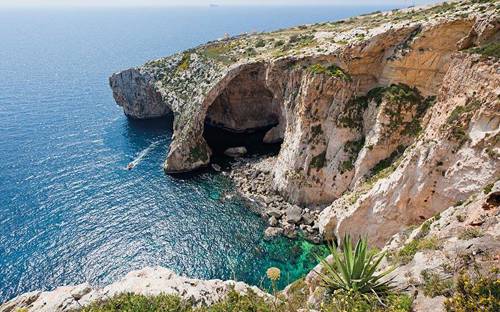 An island of natural beauty
No inland exploration is complete with a visit to Mosta, famed for its Rotunda – a huge domed church inspired by the Pantheon in Rome. The village of Ta'Qali is not far away, where arts and crafts abound.
On the south-eastern coast the Blue Grotto delights thousands of visitors each year. The perfect location of these dramatic caves and the natural light combine leading to a magnificent display of blue hues on the cave walls and ceilings.
Malta may be small, covering just 121 square miles, but it boasts a fascinating history, beautiful beaches and wonderful food. It's a place where African, Italian and British influences collide to create a kaleidoscope of culture and where the welcome you receive from the locals is as warm as the weather.
Let us take you there...
Discover Malta

Sample the culture, cuisine and ancient heritage of the sun-kissed island of Malta.