An Italian New Year with the Countess Luppis
This New Year, you can be the guest of the Countess Luppis at her family home, a four-star hotel in northern Italy. Located between the regions of Veneto and Friuli, this boutique property is surrounded by a 12-acre garden and has a fabulous spa.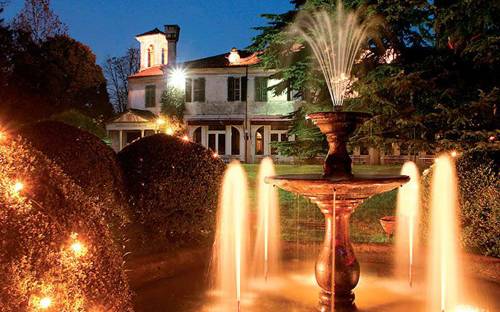 A hotel with history
Villa Luppis was originally built as a monastery 'San Martino Ripae Ruptae', at the beginning of 11th century. It was expanded by the monks over the course of two hundred years, secularized by Napoleon and then bought by ancestors of the Luppis family. They transformed it into a superb country house and elegant estate, and it became the ideal place to carry out their business and diplomatic engagements.
The present Countess and her family turned the villa into a hotel around 30 years ago and have sympathetically renovated it to retain the charm and splendour of its past. With around 40 refined rooms, the hotel boasts an excellent restaurant, tennis court and gym. The new spa offers a range of treatments and facilities including an indoor swimming pool, steam room, sauna and sensory showers.
Delicious dining in the restaurant
The restaurant offers cuisine of the highest standard. Inspired by local produce and tradition, the chef creates delicious specialities such as frico, cheese cooked with potatoes and onions, and fabulous Adriatic fish dishes using seasonal ingredients. There is always a well-stocked selection of cheese, different vinegar and oils and an impressive choice of wine, housed in the villa's ice cellar. Tastings can be organised with the sommelier, who will explain the characteristics of the different wines and recommend dishes they could be paired with. In-house cookery classes can also be arranged.
A New Year celebration like no other
At Villa Luppis, there are many reasons to celebrate on December 31st, not only is it the start of a new year, but also the Countess' birthday! On our very special Italian New Year with the Countess Luppis holiday, you'll enjoy city tours of Venice and Treviso, visit the villa's wine cellar, take part in a treasure hunt and more. The atmosphere at the villa will make you feel like royalty and you'll dine on delightful cuisine in the sumptuous restaurant each evening. New Year's Eve promises to be a celebration to remember. The gala dinner will feature a buffet of appetisers, several courses, a dessert buffet and a selection of wines. You can then party the night away and welcome in the New Year in style!
Staying at a Venetian villa with more than a thousand years of history is an extraordinary experience and this is sure to be a unique and very special holiday. With their many years of experience, the family and their staff look forward to making you feel truly welcome at Villa Luppis.